May your blessings outnumber the shamrocks that grow, and may trouble avoid you wherever you go. –An Irish Toast
On March 17th each year, people around the world celebrate St. Patrick's Day by wearing green clothes, donning shamrocks, eating corned beef and cabbage, and drinking green beer or milkshakes. Though modern images of the holiday are often of folks being out & about at a pub or restaurant, here are some ways you can celebrate this festive occasion from the comfort of your home.
Modern Day Traditions for St. Patrick's Day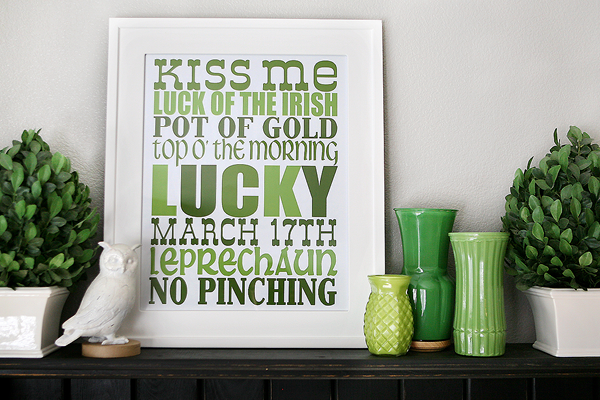 Decorating for St. Patrick's Day starts with a healthy dose of green. Not sure which shade of green to try? Pantone made it easy this year by choosing "greenery" as their official color of the year for 2017. This yellow-green tone is perfect for early spring, reflecting the renewal of earth's greens.
Use green throw rugs to turn any room into a leprechaun's lair. Invest in end tables that complement with Pantone's greenery and decorate them with matching green lamps. Find removable shamrocks to place on inexpensive lampshades. Cover your dining room table with real Irish linen tablecloth, woven in Ireland from flax fibers. Green furniture provides a fresh feeling, reminiscent of spring, all year round.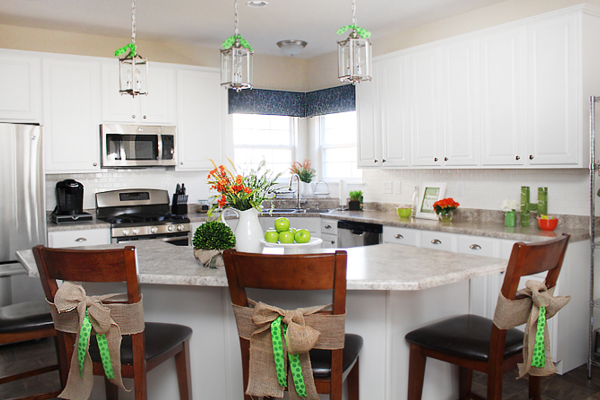 Trace and cut shamrocks from green construction paper. Tape the shamrocks to windows and doors. Create a "balance beam" by lining up shamrocks on the floor. Add fun bows to your bar stools. The possibilities are endless!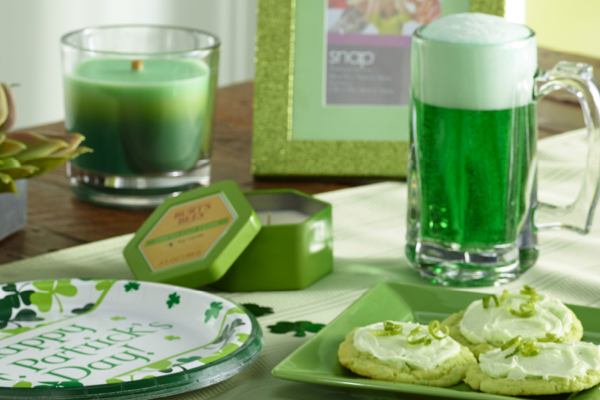 Keep food and beverages in the holiday spirit. Celebrate St. Patrick's Day with corned beef and cabbage sliders, mint chocolate brownies, and beverages containing green food dye. These foods will make for a great spread on your dining room table. 
Tape colorful streamers to the wall to create a rainbow leading to a big "pot of gold" containing chocolate coins. Pull out this fun green pouf for the kid's bedroom. Sprinkle in a few shamrocks, leprechauns and pots of gold for a fun party atmosphere for your friends and family.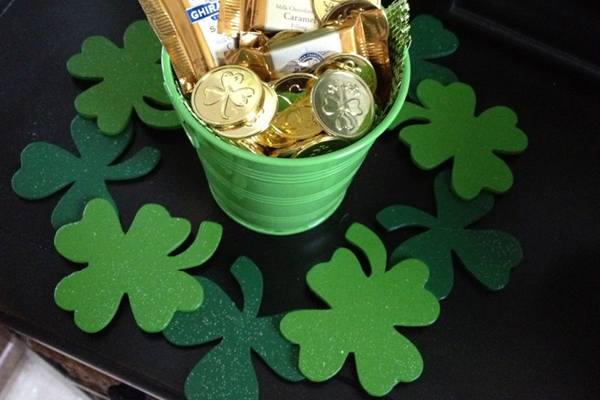 St. Patrick inspired traditions that continue today. Decorate your home for St. Patrick's Day this year, and you might just develop some decorating traditions that last the whole year through. As you celebrate, check out some fun history about the holiday and who it's named after below:
About St. Patrick
Born around 375 CE in Scotland, many believe the saint's real name was Maewyn Succat. When he was a teenager in Britain, he was kidnapped by pirates who sold him into slavery to work as a shepherd in Ireland. The young man eventually escaped bondage and snuck to the coast, where he found a ship that took him to Britain to rejoin his parents. He traveled to France to become a priest and changed his name to Patrick.
Patrick then returned to Ireland to talk about his newfound religion. Patrick used the shamrock to explain the trinity. The symbolism was so effective that the shamrock eventually became the symbol of the Irish nationalism.
Wearing of the… Blue?
Green was not always the official color of St. Patrick – it was once sky blue. In fact, there is an official color named "St. Patrick blue."
Green began to become the official color of Ireland during the 1798 Irish Rebellion, when the clover became a symbol of nationalism. "Wearing of the green," or putting a shamrock in one's lapel, became fashionable. The Irish began to adopt green as their favorite color for uniforms and other official garb. The shamrock tradition, combined with the lush emerald-colored fields of the island, eventually helped green overtake blue as the color of Ireland.